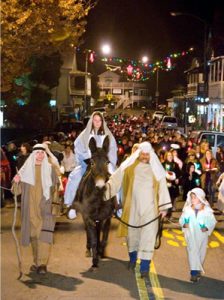 After St. Lucia Day, we rush into the celebration of Las Posadas! Las Posadas is a Mexican tradition that is observed from Dec. 16th – 24th. It recreates the story of the baby Jesus when Mary and Joseph were trying to find shelter. Generally there is a procession where people recreate the journey of the pregnant Mary and Joseph as they ask for shelter by walking down a street and knocking on doors asking for entry. Finally, someone grants them shelter. Children carry poinsettias and at the end of each evenings march, there is singing and celebration. Star shaped clay piñatas are filled with treats and then broken apart by celebrants wearing blindfolds.  
Yule or Winter Solstice is celebrated on Dec.21st. Many of our indigenous cultures here in North America celebrate this day, as do peoples around the world. Recognizing it as the longest night of the year, many tribes take this time to reflect and pray for health for their family, the animals and the Earth (as a living being). Nations like the Sylix in Washington State & British Columbia celebrate with songs and dancing – sometimes for several days! Other tribes use this time for storytelling. Staying up to see the suns return is a big part of honoring this tradition. Of course, we can't mention the Winter Solstice without mentioning Stonehenge in England, and Newgrange in Ireland which have been specifically designed to recognize this time to year. Druids and pagans of all types have celebrated the Winter Solstice with feasting, story telling and a vigil – staying up all night to welcome the return of the sun!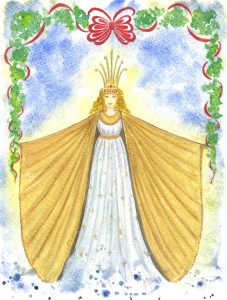 Christmas is celebrated in so many wonderful ways all around the world! In Germany, they celebrate Christmas with the ChristKind. Instead of Santa, the ChrisKind – a young girl wearing a long white and gold dress – walks around and brings presents to the children. The decorating of the Christmas tree is thought to have originated in Germany, a tradition started in the late Middle Ages. Songs are sung like 'O Tennenbaum' to celebrate. Gingerbread houses are a main part of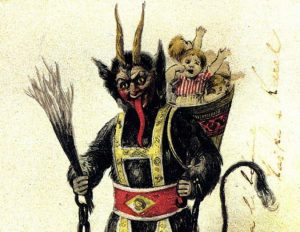 holiday celebration, with elaborately decorated gingerbread villages. If you are naughty, Krampus – a scary monster might come instead of Christkind and whisk the misbehaving child away! Krampus is growing in popularity again and can be seen in various holiday parades throughout Europe and even the US.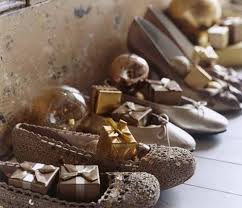 In France, we eagerly await Pere Noel, who looks like the round bellied Santa we all know in the US! Yule logs made out of cherry wood are often burned in people's home. The logs are left burning all night with food and drink in case Mary and the baby Jesus pass by in the night. Children will leave their shoes by their fireplace in hopes that Pere Noel will fill them with gifts. They will end their celebrations by eating sweets, the most popular being the bûche de Noël (chocolate rolled sponge cake).