Learning on the Road – Rocky Mountain Elk Foundation
School is starting, so this will be the last of this series till next summer, but I did want to share a bit about this cool find in Montana. The Rocky Mountain Elk Foundation is in Missoula, Montana, it's free and it is open year round. I love it because when you are looking for something to break-up the tedium of a long drive, you can stop here and begin by walking the woodland trail that winds around the property. You can potentially see deer, eagles, turkeys, trout in the stream and other wildlife. It is a great way to stretch your legs after a long ride. Plus it gets out any pent up energy from the kids before heading into the museum!
The museum itself is a beautiful open structure that encourages you to walk around. The gift store is off to the left instead of being front and center (a major pet peeve of mine. Trying to get your kids through a gift store to the museum is like trying to get gum out of your hair.). There are great plaques providing information about the different types of deer, elk, moose and other woodland creatures and then tons of interactive computer displays.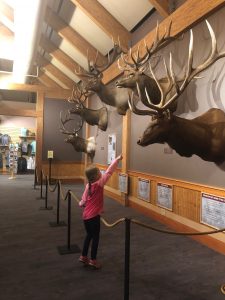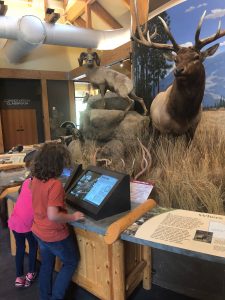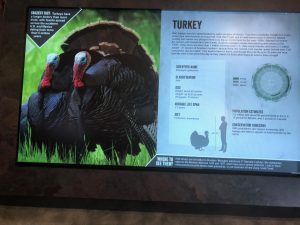 We worked with the Yellowstone migration display for some time, looking for patterns and watching how the different herds moved. We were surprised by how much territory they covered!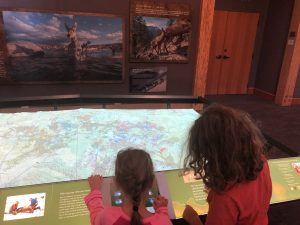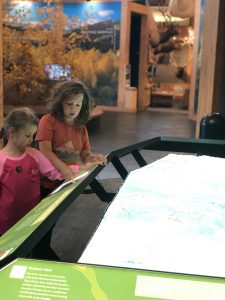 All-in-all, this was a great place to visit and get out of the car for a while. It provided many learning opportunities! We learned about the animals who live in the Montana woods, we learned about the relationship between hunting and the local deer populations. We learned more about bears and the kids got to see how much bigger a black bear paw was compared to theirs. I recommend stopping for a visit if you are driving through Missoula on I-90.