Education is Its' Own Language
What was your first language?
Spanish? English? French? Education? Wait. What? Education isn't a language! I would argue that it is. Language is a means for people to communicate, to reach an understanding. Can education not help within those areas? It can and does.
Education is a way to come together and communicate with each other. I might have nothing in common with the person standing next to me. We can come from different cultures, have different religions and different languages. The one thing we might share is an understanding of math, or a love of Victorian authors, or Renaissance artists. It is our education about things that allow us to seek and find common ground with those around us.
The all-encompassing mission of Global Learn Day is that while we celebrate mankind's learning we are promoting the concept of "One Planet, One People". We are a collaborative people, building up ideas one on top of the other, expounding on previous research. It is through this language of education that we come together and improve the human condition.
This (http://www.adherents.com/people/100_scientists.html) link lists 100 influential scientists. Looking through the list you find individuals from a variety of eras, cultures and languages. They spoke the same language though. Education opened up their mind and engaged their curiosity. Via their education and their willingness to continue to learn they were able to contribute to man's understanding and knowledge long term.
This is the language of education. The desire to never stop learning, to never stop sharing what you have learned with others. This contribution has the ability to shape the world, to 'Build a Bridge to the Future'. Never stop learning. Never stop speaking the language of education.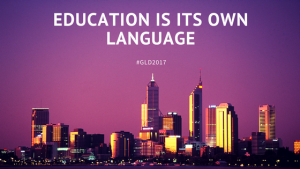 What is your favorite thing to learn about?