Celebrating Winter by Exploring Cultures around the World!
By Paula Randall
Fall winds are blowing and here in my house we are eagerly looking forward to the coming Winter and all excitement of the holidays. As a homeschool parent, this of course screams 'learning opportunity' so this year, I am going to go all out! We have chosen 12 different holidays/cultures to learn about. I am prepping materials to help us learn how the various cultures celebrate the many different Winter holidays. We will explore Kwanza, Hanukah, and Yule/Winter Solstice. We will discover La Befona in Italy, Pere Noel in France, Christkind in Germany and Los Pasadas in Mexico. We are excited to learn about the Tomten and celebrate St. Lucia Day in Sweden (This is one of my sons' favorite countries because of the Sami people. They keep huge herds of reindeer and live in the far northern parts of the country.). We are going to find out how they celebrate Christmas in Australia and Russia. Then we will finish our studies with a virtual adventure in China where we will learn all about the Chinese New Year which is one of the last holidays of the Winter.
We are going to have so much fun! I am excited that I am learning just as much as my son. He is 8 and so will be the perfect age to really get into these activities. I have a giant inflatable planet with the political boundaries labeled on the continents, so we will be using that as a reference point and using tape and string to demonstrate how far away each place is from us in our cozy home in Eastern Washington. At the very end, we will measure the strings and see which country was furthest away! I can't wait to get started!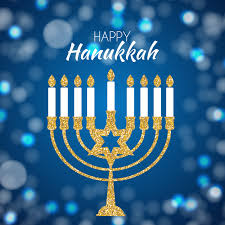 Our Winter adventure will begin with Hanukkah. This year (2018) Hanukkah is celebrated on December 2nd and ends on December 10th. It is a beautiful festival of light that uses candles and a special candle holder called a menorah. The candles may only be lit after sundown and in a specific order. 1 candle the first night, and then two the following night until 8 days later all the candles are lit. Each family member is encouraged to have their own menorah, or a communal menorah can be used in which all the family members, including the children take part in the lighting of the menorah candles. The candles or lights must be on for at least 30 minutes and during that time, all attention should be on the candle flame with no other sources of light. Prayers are said over each candle as it is lit. You are encouraged to tell stories about the holiday and enjoy traditional food like potato latkes and sufganoit (doughnuts). It is also customary to gift children with gelt after the candles have been lit to reward them for good behavior. The children are usually encouraged to use part of their received money to donate to a charity. Children will often play games with dreidels (spinning tops). The dreidels have four sides. On each side there is a symbol. Nun, Gimel, Hay and Shin. Nun stands for nes or miracle. Gimel stands for gadol or great. Hay stands for haya or was. And finally Shin stands for sham or there. The game that is played with the dreidel is a bit of a gambling game but lots of fun. If you roll Nun – nothing happens. If you roll a Gimel – you win everything! If you roll Hay, you win half of whatever was bet. If you roll Shin, you lose everything! You can imagine how exciting this game would be to play with little ones that have just been gifted with their gelt (money – often the golden chocolate coins that come in a bag).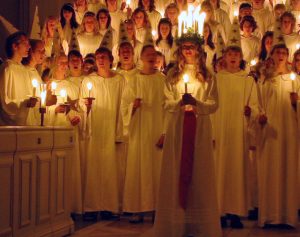 Next, we will learn about St. Lucia Day and Sweden! Another festival of light, St. Lucia is a woman who wore candles on her head so that her hands would be free to hand out food to the poor and starving. Originally, this holiday was celebrated using the old Julian calendar which meant Dec. 13th coincided with the Winter Solstice. Today young girls are selected to represent St. Lucia by wearing crowns of lingonberry branches, with structure to support 7 candles. Battery powered candles are fine to substitute! Boys can dress up as Stjärngossar or Star Boys. Both the girls as St. Lucia and the Star Boys wear white but the girls also wear a red sash around their waist. The Star Boys have instead of a crown, a tall pointed hat (without a brim) decorated with stars. On the morning of the 13th, the girl who is acting as St. Lucia should wake everyone up early with St. Lucia buns, called lussekatters and coffee or hot cocoa. The day should be spent singing St. Lucia songs and eating traditional Swedish foods like meat balls, St. Lucia crown cake and glogg. Once the sun has gone down, the spectators light and hold a vigil candle. All other light sources should be off. Then St. Lucia and her procession of maidens and star boys walk through with their costumes and candles lit singing a St. Lucia song. This symbolizes the suns return – light emerging from the darkness. This is a great holiday that I am excited to celebrate! In Sweden, the Tomten, or Christmas gnome is the one who delivers presents. He goes around with his with his goat to deliver the  presents to all the girls and boys, who leave porridge outside for them to eat instead of milk and cookies.