Have you ever read with you ears?  Yes, that's right with your ears.  Just as the blind read with their fingers, your ears can read for you.  The function of reading is the transfer of information.  Regardless of how it is transferred, reading is a powerful skill and a gateway to lifelong learning.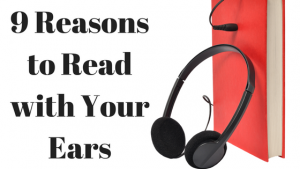 party jumpers for sale
Audio books and reading aloud provide a reading environment that is not only enjoyable but accessible to all students, regardless of age.  With advancing technology allowing downloads anywhere and easy portability of recordings, there are so many reasons to give audiobooks a try!
Here are nine ways that reading with you ears is beneficial–in some cases more so than reading with you eyes.
9 Benefits to Reading with Your Ears:
Access to information: Anyone can listen to an audiobook.  Whether the "reader"is struggling with basic decoding or wants to read above his present ability, listening to a book–whether fiction or a textbook–opens the door to learn information that would otherwise be inaccessible.
Development of key skills: Listening to books being read aloud, increases fluency and develops comprehension skills. Both of these are vital to successful reading
Common ground: In the classroom or the home, a audiobook levels the playing field. Everyone can have a shared reading experience regardless of ability. This allows families to bond over a great piece of literature. It also afford student, who may otherwise struggle, to become part of the conversation around her and participate in the culture of learning.
Higher self-esteem and confidence: Being able to listen to a text helps to build confidence.  Struggling readers can easily accomplish what may otherwise seem impossible. Being able to read and discuss a book boosts self-esteem.
Fostering a love of reading and storytelling: Storytelling is a lost art that served as great entertainment in days gone by.  Listening to a story, helps to increase the love of reading by drawing the listener in to the magic of the written word.
Richer vocabulary: Audiobooks develop vocabulary for all readers. A wider vocabulary allows for better comprehension of books read with the eyes, also.
More time to read: Life is busy in the modern world.  People have little time to just sit and relax with a good book.  Audiobooks can easily be transported wherever you go.  In addition, they can be enjoyed while accomplishing mundane tasks, such are washing dishes or commuting to work.
Increased listening skills: Listening is essential to reading.  Comprehension is reliant on the reader being able to listen to the story he is reading in his head and understanding.  Listening skills are important and needed in every facet life.
Fueling imagination: Books have wings and time machines. A good book draws the reader into the story in a way that it becomes real.  Audiobooks and read alouds intensify this experience by freeing the readers mind to get lost in the text without having to think of the mechanics of reading.
What have you read with your ears lately?
For more information, check out:
Audiobooks help raise reading scores
5 Infographics that depict the importance of audiobooks
Audiobooks offer unexpected benefits
Please follow and like us: