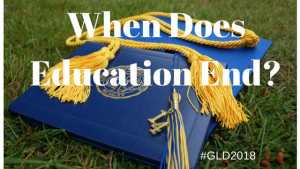 Education Road Maps
There are many theories and much debate about when education should begin.  On one side there is a push for earlier and earlier learning, formal studies beginning in the toddler years.  On the other, there are proponents of delayed study beginning at age seven or later.  In all of this back and forth, the question of when education ends is not addressed.
At the start of formal schooling, children are presented with a road map of how to make it to the end of their school career with several exit points and choices along the way.  Make it through high school and then choose a trade school or college to attend. Have you earned your bachelors degree? Well you could continue to a masters or doctorate, or jump into your career.
What Is Required of Me?
Much of this plan is based on checklists and diplomas. Do this and get that. Is that the goal of education, though?
Education is the passing on and accumulation of skills and knowledge.  While learning is often a means to an end, it has value beyond getting a career or earning degrees.
An Education of Your Dreams
If you could learn anything what would it be?  Is there something you have always wanted to try?  Maybe you dream of being able to play the guitar. Or have you always wanted to speak Russian?  Is there a craft you admire and wish you knew how to make? How about a home improvement task that you wish you didn't have to hire someone to do?
Education is learning, not school. It is a lifelong process to shape your abilities, interests, and understanding of the world.  While formal education is a linear process to a pre-determined goal, true education is integral to the life process.
When Is It Too Late?
The saying, "You can't teach an old dog new tricks" has derailed many an aspiring learner.  It is never too late to learn. Never too late to complete a learning task, and surely never too late to begin. Learning may take longer and be more difficult to fit into your daily life but that does not diminish its value, nor preclude it from happening at any age.
Today is the best day to begin your education.  Begin today and continue tomorrow.  Continue your education for career. Learn a new craft, skill, or trade.  Educate yourself about subject matters you do not understand. Study history. Investigate politics and world news.  Pick up a work of literature you have never read.  Whatever you choose, there is no wrong choice in furthering your education. Anything that you learn becomes a new jewel to line your pockets.
The Real Worth of Education
Not all education will earn you higher wages, but every bit of learning will make you richer in life, independence, and understanding.  Education is not a piece of paper to hang on your wall, it is a process to enrich your mind that provides resources that can never be taken from you.
When does education end?  The real answer is when you let it, because learning is a gift you give to yourself each day.  Change the world–learn something new today!
Please follow and like us: