Make Your List and Check It Twice!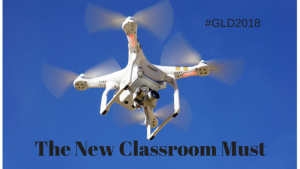 It's no secret that teachers spend hours planning and accumulating supplies for their classroom–many purchased with their own money.  In the 21st century, the supply wish list continues to grow in order to address the growing needs and interests of our digital age.
pens
notebooks
crayons
grade book
planner
stickers
chalk
folders
posters
paper
drone
Drone?!? Yes, drones are making their ways into schools and shaking up lessons across the globe.  No longer limited to police or military use, drones are becoming a common, yet still hotly debated, part of everyday life.
An Up and Coming Classroom Staple
Even thought they are common, what does a drone have to do with learning ABC's and studying Algebra? More than you realize!
Drones not only provide a new and innovative way to express creativity, hone engineering and design skills, and inspire innovation; they also lend themselves to imaginative play and changed perspective.
When Am I Going to Need Math, Anyway?
Equations, proportions, fractions, geometry…students often groan over the "uselessness" of such arduous learning.  Projects like drones bring math to life. No longer are math lessons simply problems on a page, but a mission, an opportunity, an adventure.
Designing, planning, and using drones all require computations that give mathematics a real world, hands-on approach.  Need a little spice for your math class, consider adding a drone!
The Language and Rhetoric of High Tech Tools
Drones are not only for the science or math wings of the school, language arts can get a boost from some high flying antics, as well.  As drones allow for photography from angles never experienced before, these images can be used as writing prompts.  What a way to spice up your writing task arsenal!
In addition, drones are as controversial as they are fascinating.  Even enthusiasts have reservations of how and by whom they should be used.  Hosting a classroom debate or assigning written position papers will integrate the subjects and lead to critical thinking.
*Gasp* Sheer Brilliance! 
Another Masterpiece from Drone's Blue Period
Art and STEM may seem to have nothing in common but as any supporter of arts education will tell you, the world need art!  Innovation and invention thrive on creativity.  Did you know art could use technology as well?
By attaching various tools, such as paint brushes, students can use a drone to create a new masterpiece.  This process will also require development of hand-eye coordination–a true cross-curricular activity.
STEM + New Technology = Lots of Money Spent
Drones, like all new technology, are expensive. With ever increasing demands on teachers' generosity and school budgets, it may seem impossible for the average classroom to have its own drone.
Here is where Maker's Stations shine in the darkness.  Creating your own drone is not only economical but an incredible learning opportunity.  If you have access to a 3D printer, your class could build a drone start to finish by their own design.  However, even low-tech school can add drones to the supply closet with low cost kits that use Legos to build functional but resilient drones for less than $200!
Good or bad, like it or not, drones are a growing part of the everyday landscape. Integrating them into the classroom not only provides new opportunities but provides tools for students to understand this rapidly advancing world of the information age.
How would you use a drone in your classroom?
Please follow and like us: