Knowing a second language is a great asset. It can lead to better career opportunities and improve your brain function. However, learning to speak a new language can seem overwhelming. Most people do not have days or even hours to spend learning their target language.
The good news is that you can learn a new language without quitting your day job. By integrating some easy strategies into your spare time, you will become bilingual in no time. Do you have 20 minutes a day, or even just five? If the answer is yes, you have exactly what you need to reach you language learning goals.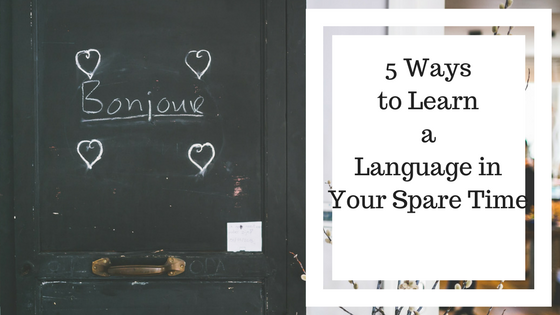 1
Duolingo
There's an app for everything today. Language learning is no different. While many promise results, few are as comprehensive and accessible as Duolingo.
Duolingo covers all the bases of language learning–reading, writing, speaking, and listening. This gamified platform keeps you motivated and engaged. Set a daily goal and track your progress.
This is microlearning at its finest and it really works!
2
Watch videos in target language
Watching your favorite television show may be the way you unwind at the end of a long day. Television and movies is an excellent way to learn a language because you will learn by immersion, the same way babies learn language.
Video streaming services such as Amazon offer a variety of movies and television series in many languages. (Listening to radio or a podcast is also a great way to learn, however having the visuals of a show really helps in the learning process) Find one you enjoy and start to learn without trying.
3
Join a Facebook group
Love it or hate it, Facebook is a resource for connecting people around the world. Aside from learning the latest news and marketing your business, Facebook can be a way to learn new skills, like a new language. Many groups exist for language learners to interact with each other and practice.
This method takes only minutes a day, but give you real world experience for free, without leaving your home. Simply search for a conversation group in your target language, for instance "French learners conversation group."
4
Play a game
Learning should be fun! Playing a game, whether virtual or a good old fashioned board game is a perfect way to practice language skills and pick up new vocabulary. Try playing a classic, like Uno, but use your new color and number vocabulary. Or, find a game produced in the target language and play your way to your learning goal.
5
Read in the target language
It may seem that reading is something that comes late in language learning, however reading in the target language is the best way to learn vocabulary in context and also develop an understanding of grammar.
Start small, as in kids books, and work your way up from there. Reading for just a short time each day will really boost your learning efforts and give you greater confidence in conducting conversation. It will also teach you everyday language and cultural norms.
Do you have a goal of learning a new language in 2018? Have any tips to share?
This post contains affiliate links. If you click and purchase through these links, a small compensation will go toward supporting Global Learn Day!
Please follow and like us: