It's a couple weeks into 2018. Have you made any resolutions yet? Picked your word for the year?
New Year, New Opportunity
January offers a fresh start, even if it is in the middle of the school year for the northern hemisphere.  Technology is advancing and changing at record breaking speed.
While it is hard to keep up with every change, it's important to be open to learning something new.  Trying out a new platform not only will enhance your learning experience but expand your brain.
Whatever your goals for 2018, add these 7 edtechs to the list.  Learn something new this year!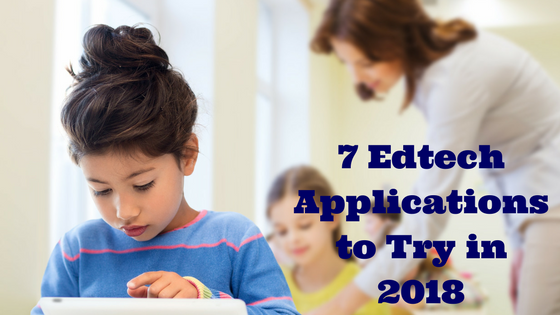 WeVideo–Do you like watching a movie? Have you ever wanted to make your own? WeVideo is a simple to use film editing platform that even young children can use. Don't let it's ease of use fool you though. WeVideo creates such amazing results that it is used by businesses to create marketing films.
Flipgrid–Flipped education is turning school on its head. Flipgrid is taking it a step further by using collaborative technology and film editing software to reach every student. In the Flipgrid classroom, student discussion runs the course not teacher lectures. The creative tools give every student a voice.
NewseumEd–This is an extension of the Newseum in Washington, D.C.  It's virtual collection delivers primary sources right to your tablet, laptop, or phone. More than just a database, NewseumEd is packed with tools and classes for educators.  This is a must use for teaching students, and yourself, about history and discerning factual news.  There is even an EDIDEAS section for learning more about current events.
 myOn-myON is not just a program, it's a "literacy ecosystem."  The virtual library of interactive books teaches children to read while engaging them to keep learning by reading. myOn's adventure isn't only for students, the site offers professional development for teachers as well.
Quizalize–Quizzes are a part of education that will never go away. Move out of the way notebook paper and pen, though, Quizaline offers a new platform for quizzes that helps both teacher and students. Quizaline tracks students' progress, provides a means for differential instruction, and gives students instant feedback. Make your quizzes engaging, fun, effective, and authentic.
Sway–Is a program with so many applications.  An ultra modern and slick answer to Powerpoint, Sway also generates high quality newsletters. Get students writing, or teach yourself a new skill for business. Sway is enjoyable and useful for all ages.  like other popular edtech, Sway works through collaboration and access anywhere technology.  Imagine the possibilities!
FluentU– FluentU offers an immersion experience that comes to your classroom. Image being able to take your students into the heart of everyday life in your target language. This platform offers high quality videos to enhance the learning experience and keep students engaged. Even better, FluentU can be used anywhere (including at home) and it tracks students progress.
What are your goals for 2018? Here at Global Learn Day, ours is always to never stop learning and find better ways to connect the world.  These edtech applications can do both.
What edtech would you recommend?
Please follow and like us: