Did you ever have a pen pal as a kid?  Maybe it was a school project. Do you remember your pen pal's name?
Having a pen pal is a powerful experience. Long before the Internet, pens and paper connected people and cultures that would never cross paths otherwise.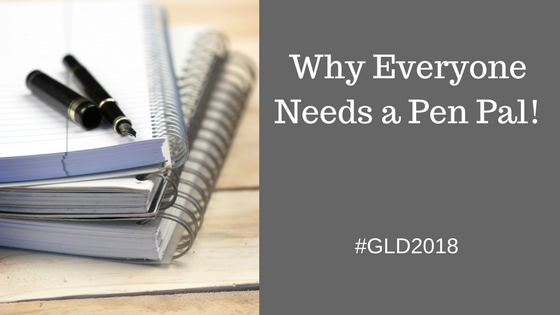 Why Everyone Should Have a Pen pal
Having a pen pal is not just for kids anymore. Access to the Internet does not make pen pals obsolete. Here are some of the benefits.
Learn Something New
One of the best reasons for connecting with someone far away is to learn something new.  By writing letters and asking questions, you will learn first hand information.
Learning is a never ending process. Pen pals give you the opportunity to learn more about your own interests. Who knows what other interests and information you will discover from your pen pal!
The More You Know, the More You Grow
Learning something new isn't the only benefit. As you learn, your brain grows and changes. These changes improve the physical makeup of your brain.
It's not just your brain, your mind changes, too. Learning and exploring open your mind to new ideas. It sparks curiosity, which leads to more learning.
Letter Writing Is a Dying Art
What was once common practice is now a dying art. Writing letters has been replaced with email, Skype, and texting. These are all efficient and helpful in many ways. However, modern technology is lacking the human touch of a hand written letter.
While pen pals do not have strictly use a pen, it is a nice touch.  The bonus is your handwriting will improve with practice. Writing by hand also stimulates brain connections that make your brain better.
Start a Global Collection
Pen pals are a great way to start or add to a collection. The easiest collection to create is stamps. Stamps are essential to get mail from one place to another. They also tell the story of their country of origin. Celebrities, common plants and animals, geographic features, holidays, and historical events are all featured on stamps.
If you are looking for something a little different, you could try a tea exchange. Tea bags are light and easy to enclose in a letter. Now that is a delicious project!
Get Some Real Mail
Seems like there is continually more mail in the mailbox. However most of it is not anything you really want. Bills, advertisements, and catalogs make up the bulk of each delivery.
Having a pen pal can put excitement back into getting the mail. Now when you open an envelope, it will have pages you actually want to read and savor.
The Human Connection
Pen pals can grow into great friends. Even if you never meet face to face, lifelong friendships are possible.  We are more familar with this type of friendship because of social media. However, letter writing pen pals enjoy a privacy that cannot be found online.
Cross culture friendships build understanding.  Understanding each other leads to a new peace. It also encourages cooperation.
Northern Ireland has been torn apart with misunderstanding and conflict for generations. To help end the strife, programs have been developed to bring young people from both sides, Catholic and Protestant, together in a neutral location to just get to know each other.
Knowing leads to accepting.  Once you can see your similarities, it is harder to focus on your difference. Globally minded people see what unites us.
How to Find a Pen Pal
Finding a pen pal may sound difficult in a world that is so interconnected yet very isolating. There are still many ways to get yourself involved in a pen pal project.
It's All about Who You Know
Start thinking of friends or family who have connections in another part of the world. Perhaps they are business contacts or college friends. However they know each other, this is an easy way to find a pen pal.
Missionaries are also a great resource. They can serve as pen pals wherever they are stationed. They can also find locals from their mission field who are interested in being a pen pal.
Websites to Use
If you have exhausted your personal connections and still haven't found a pen pal, there are website that can help. Here are a couple to try. Each of these offers a slightly different pen pal experience.
Snail mail Penpals: This site will match you with a pen pal that has similar interest. It's a traditional pen and paper pen pal set up with a twist. Participants craft and send creative mail for pen pals to enjoy.
Postcrossing: This is not a pen pal service but you could find a pen pal here. Postcrossings allows you to send postcards around the world to random people. In return, you receive postcards back. Talk about global mail!
Global Penfriends: This website will match snail mail and internet based pen pals. It is free to join. Global Penfriends is open to all ages. It allows you to search by interest and age group.
There are many more pen pal sites on the web. For more information. Visit our Pinterest Pen Pal board.
Have you ever had a pen pal?
Please follow and like us: