Our world is shrinking. Not the physical world, but our connectedness and interdependence is bringing the far reaches of our planet right to our door step.  Global commerce and increased ease of travel, not to mention virtual communication, are creating a future where circumnavigating the globe will not only be possible at lightening speed, but necessary to maintain business and political relations on a daily basis.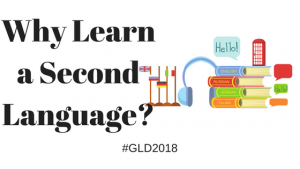 Google Translate Is All I Need
With advances in Artificial Intelligence and intuitive software, the ability of computer generated translation has skyrocketed.  New programs are able to translate in real time via voice recognition. This leads many to believe that learning a second or third language is obsolete.
Just as understanding of geography and map skills should never be replaced with reliance on GPS systems, learning a foreign language can never be usurped by an app on your phone.  Technology has limitations. Even the best software will not be correct 100% of the time.  In addition, technology can fail due to user error, loss of power, or computer viruses.
The need for another language is growing, not shrinking. Here are five reasons why you should start to learn a new language today!
Job Prospects: Knowing a second language has huge career advantages.  It not only makes you more employable, leading to greater choice of jobs in a difficult economy, being bi-lingual provides for higher salaries as well.  Employees able to speak more than one language are great assets to companies competing in the global marketplace.
Brain Power: Learning something new is the best exercise for your brain. Moreover, language learning is the apex of brain development. Learning another language not only flexes your gray matter to keep it in top shape, it helps to stave off brain related disease such as Alzheimer and Dementia. By creating an infrastructure of multiple neural pathways, learning and using a second language has been show to push off development of brain disorders by over 4.5 years!
Cultural Understanding: Learning the language of a country or region not only opens doors of communication but immerses you in the nuances of the culture. Language is a living organism. It grows, changes, and adapts to the ways and history of the people who speak it.  By learning the language, you will understand the people's culture and be more able to interrelate on a personal level.  You will become integrated into the experience instead of just looking from the outside in!
Understand Your Native Tongue: Since a first language is always acquired organically, the use of grammar is something that is understood and rarely analyzed. However, by studying a second language, you will gain an appreciation and proficiency in your native language that cannot be learned otherwise.  This leads to better communication in both languages and improved writing and reading skills.
Build Bridges to New Gateways Where could another language take you? Anywhere you want!  Our technology affords us the opportunity to travel without passport or plane ticket. Features such as Skype, Facebook, and Youtube open the door to the world–a rich world full of endless learning possibilities.  Language learning is the key to this pathway, for if you get to the door but don't know the secret password (in this case understanding to the target language) even the best technology will leave you out in the cold.
As One Planet, One People, let's work for not only greater interdependence but greater understanding.  Learning is not a one way street. What you learn not only enriches your life, but connects you to others and builds bridges.
To where will you build a bridge today?
Please follow and like us: