Electricity is a blessing to education, as we explored earlier in the week.  Now let's look at innovative ways that electricity is coming to remote places and building bridges to the future.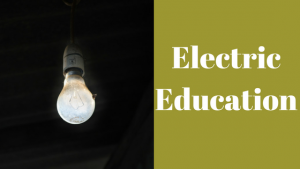 Innovative Supplies of Electricity
Bundles of Energy
Have you ever watched children play? They run, they jump, they seem to just never stop.  More than once each of us has joked about harnessing their energy to power a small city.  What if I told you the joke is now a reality.
Jump to It
When on a trip to visit family in Nigeria, Jessica O Matthews, founder of Uncharted Play(now Uncharted Power), struggled with the fumes from a diesel generator used to power the lights for her aunt's wedding celebration.  Determined to find a way to solve the problem of energy sources in developing nations, Matthews got her chance in college and not only built a high scoring project with a few of her classmates for her engineering class, but founded a company.
Their first product SOCCKET is a soccer ball that is actually a generator.  It provided 2 hours of power for a lamp used by students to study in areas without electricity. Then there is PULSE a jump rope that can charge a cell phone to half power after just 15 minutes of use. Play become power.
Uncharted Power's mission is to reach areas most in need of electricity with clean, easy to use generator options.
Shine Some Light on the Situation
Groups like Solar City are bringing brightness to developing areas of the world, including Mali Malawi, Nicaragua, and Haiti, through donating solar panels.  The solar panels are attached to school roofs or mounted on the ground. They power simple LED lights and include a battery back-up feature.
These panels allow for better access to education for children and parents, spreading not only light but hope.  A school in Nigeria that received the panels now functions as a community center at night.
Not only are the panels usable in areas that would never see on the grid electric, they are cost effective and clean–creating no harmful fumes.
Gravity Works
The GravityLight  uses a simple pulley system and sand bag to provide off the grid power anywhere.  Available for use as emergency lighting in the USA, Deciwatt Ltd funds donations of the GravityLight to those who need it most around the world.
The system provides clean energy that is much safer than kersene lamps, traditionally used in developing nations, and costs only $5! Aside from the dangerous fumes that cause health problems and make homes prone to disaster by fire; kerosene also consumes a large percentage of a developing world family's budget–as much as 30%.
By using a clean, renewable, and safe source of light, children have more time to study and parents have more resources to provide for their family. Both help to break the cycle of poverty.
What's Next?
With the advancements in solar and kinetic power generation, the hope of spreading light across the globe is closer than ever.  After all, who doesn't want a magic machine to wash their clothes?
Electricity is only the beginning. By providing access to lighting, schools become open to adding technology. Currently, mobile phone usage is growing in developing nations more than anywhere else on the planet.
Mobile phones build bridges through providing communication to the most remote parts of the globe.  Phones are also used to increase literacy by providing incentive to learn to write and spell through texting and download information from the Internet.
No longer are remote school relegated to out of date textbooks.  Simple phones can open an entirely new world of information and learning.
It is important to not just jump on the bandwagon of technology donation, though, without the proper infrastructure and education, this technology is rendered useless. Program which can build, teach, and provide technology programs to underserved schools can be the key to bridging the gap in education worldwide.
As one school rises, so does an entire town, area, region, country, and generation.  Little by little, light by light, we can see a future where every child get to learn and poverty is extinguished.
How would you help a school in need?
Please follow and like us: