Ring in the New Year by the Ringing of the School Bell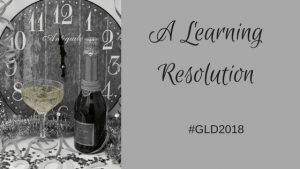 Resolve to Learn
The year is rapidly coming to a close, with it a flurry of activity and holidays are being celebrated worldwide.  This is a time of excitement and joy. It is also a time for introspection and goal setting.
Come December 31st, millions and millions will create resolutions with the intent of improving themselves and their lives in the coming new year.  Among the top resolutions are losing weight, exercising, quitting bad habits, and finding a job.
What if this year, you resolve to learn something new?  Learning exercises your brain, creates balance in your life, leads to better decision making capabilities, and could help you land that job or improve your chances of promotion at your current employment.
Surfing the Web to Learn
Continuing education is more readily available than ever, delivered directly to your laptop, tablet, or phone. Here are some resources to jump start your lifelong learning habit.
Udemy– Like shopping on Black Friday for all the deals? Then this learning platform is for you!  Forget the latest craze, sign up for a class! Udemy has a Black Friday special going on right now with courses costing only $10!!  There is so much to learn, and with this deal, you could chose to learn more for less.
Skillshare– Skillshare offers short courses on specific skill sets from photography to e-commerce, this website has opportunity to grow in your career and hobbies. The lack of long term commitment for classes makes this an ideal place to start.
Open Course Ware–Virtually every major university offers open courses online for the public to take at will.  These courses are free and are the same courses offered at the university itself. While you cannot earn a degree through these courses, you will still learn from top notch professors. In addition, you could test drive a program or major.  Lastly, you can use the courses to prep yourself for CLEP examination which can earn you college credit.
KHAN Academy– Free video based courses for kindergarten through adult education. KHAN Academy covers diverse subjects with an intense focus on science, math, and computer programming.
Youtube– Aside from the funny videos and viral pranks, Youtube offers an immense amount of knowledge for free.  There are videos on every subject and many skills to be learned in a "one-on-one" setting.  Decide what you would like to know how to do in the new year and find an appropriate Youtube channel. You may have to dig around to find the presenter who works best for you, but don't worry there are 300,000 new videos loaded every day!
Looking for more online opportunities?  Check out this list of 20 Places to Educate Yourself For Free! You are sure to find something to tickle your fancy and expand your mind!
Offline Learning
Online learning, elearning, and virtual coursework are all the rage right now. The Internet does surely provide unsurpassed access to information and is a flexible tool allowing educational opportunities to reach where traditional schools never could. However, online classes are not the only means of continuing education in the 21st century.
If online classes just aren't your thing or your bandwidth doesn't accommodate videos, learn the old fashioned way-through books and other people. Books are still just as valuable as they were pre-Internet days.  Find a good book on whatever you are yearning to master. Don't have a skill you need to learn? How about you just read some good classic literature?  Your brain will get pumping and you will surely expand your vocabulary. All around, a worth while endeavor!
In addition to amazing books, see what learning opportunities exist in your area. Is there a club offering demonstrations? Could you sit in on a course offered at your local trade school or college to learn more about the study program?  Libraries offer a vast array of programs, course, and groups that can enrich your lifelong pursuit of knowledge, oh and they also have books–many, many books!
How will you resolve to learn this coming year?
Please follow and like us: