India is an emerging economy that is rapidly growing. Unfortunately, unemployment rates are outpacing the soaring expansion of its GDP. In a nation with a large rural population and many calling for educational reform, India stands poised at a crossroad.
The number of well educated graduates is steadily increasing, however many are unable to find suitable jobs. If India wants to get ahead and solve its job crisis, a change must be made.
E-learning may be the way out. A new platform of education with ever expanding capabilities mean limitless opportunities. The digital age of exploration is launching India onto the world stage.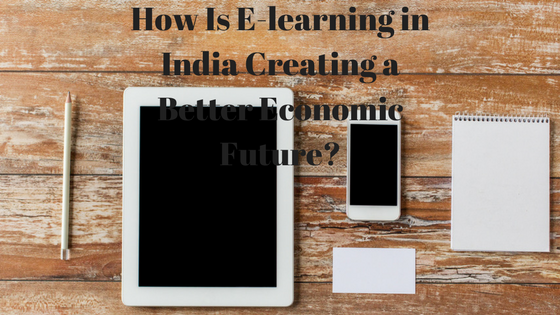 How Is E-learning Growing in India
India is currently one of the leading countries in the e-learning movement, second only to the United States. The e-learning market is projected to reach $1.26 million in 2018. As the "Digital India" initiatives drives sweeping change across India, increasing the GDP and ushering India onto the global technology market, there is an ever growing gap in jobs that will be needed to maintain this momentum and skills that are lacking in recent graduates.
Even though 65% of India's population is under 35 years old, and mobile technology is now being used by 26% of the population to access the Internet, education in technology skills is far behind.
E-learning is hoped to bridge this gap, establish new educational opportunities for the younger generation, and provide micro-learning for recent graduates and business professionals.
How Is E-learning Changing Education In India?
The traditional, one size fits all model of education is not capable of readying students for the ever changing world of a digital, global economy. E-learning and edtech platforms are providing individualized educations, creating easily managed assessments, and increasing engagement in the classroom.
With a large rural population, India has also benefited from satellite delivered Internet for even the remotest regions. E-learning is bringing top notch, high-tech educational opportunities to students who would otherwise not have access to a modern education.
In recent years, satellite service has dropped drastically in cost. This has made Internet access affordable for an ever growing working class population. The Internet has proven to be a pathway to greater education access and intercultural relationships. For remote, rural populations, e-learning has many advantages.
One of the biggest advantages is the one on one instruction and opportunity for personalized study schedules. MOOC classes based on traditional university schedules were the first wave of e-learning opportunities worldwide, however these had a high drop out rate (80-90%). By providing microlearning that is individualized, India is on the cusp of an educational revolution for all sectors of society.
E-learning is also helping to solve the qualified teacher shortage that plagues the Indian educational system. By having broader reach, the country's best and brightest teachers can instruct vast numbers of students, not just their local school.
How Will E-learning Create Jobs in India?
As e-learning grows in India and initiatives such as Digital India and SWAYAM platform progress, there will be a growing demand for teachers. Those who have the necessary skills for 21st century technology and business will be in high demand to disseminate instruction and close the present skills gap.
Also, as Multinational Companies (MNCs) continue to invest in India, a well skilled generation of workers will be needed to keep the economy going. By training the up and coming leaders of tomorrow, India will have a solid workforce prepared to support a digital economy.
Having a work ready population will attract greater investments and continue to raise the economy of India on the world stage. The ability to compete globally is the greatest aim of these revolutionary educational techniques. It is not enough to have the technology at a growing number of citizens fingertips, but to graduate skilled worker that know how to implement new technology to grow businesses, and adapt to a rapidly advancing technological age.
In addition to teachers, and tech savvy workers, a booming e-learning industry run by domestic platforms provides opportunities for management positions and education developers. Those skilled in developing learning platforms, leading organizations, and managing digital companies will be a great assets.
The Next Step
As our world continues to rapidly change in this digital age, the divides of the world continue to close. Building a future of economic stability, educational opportunity, and greater cooperation will help to raise the quality of life for all people.
In 2018, Global Learn Day strives to Unite the World through Education. Education is the great equalizer. It not only provides greater opportunities and higher pay, but provides interconnectedness that unites the world so we can overcome what has historically divided us.
What can you do to support this mission? How has e-learning changed your life?
For further information check out:
Changing Face of Indian Education
E-learning India's Education Needs to Get Online
E-Learning Market in India–Challenges and Opportunities
Please follow and like us: