How far would you travel?  How hard would you work?  If the journey were nearly impossible, would it be worth it to you?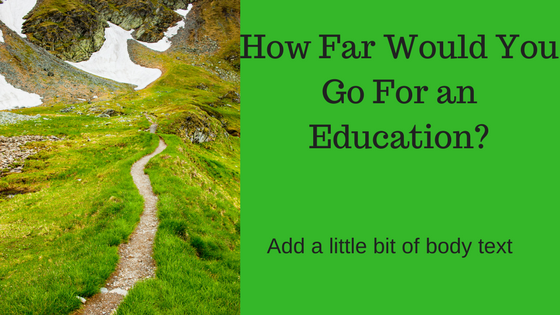 A recent viral photo showed a Chinese boy encrusted with icicles after he walked nearly 3 miles to school in below freezing temperatures. He is seen smiling ear to ear with red, wind battered cheeks and snow stuck to his hair and eyebrows.  His little hands are calloused, swollen, and red from hard work and harsh weather.
Why did he do this? What could motivate a 9 year old boy to endure such perils? He wanted to take his final exams.  He wanted to learn, grow, and succeed.
This young man demonstrates the worth of an education.  While millions of children with easy access to education groan about the work they have to do or the time spent studying. Children like Fuman realize education is a precious gift.
A Voyage of Learning
Each October, Global Learn Day circumnavigates the globe via the internet and virtual world. We value education and celebrate learning. We invite others to join us. Do we realize how much education is worth?
We are each on our own journey.  Every step, every moment is different. What unites us is the desire to learn.
The World in Numbers
Though efforts to end world poverty and spread access to education are making a difference.  Ten percent of the world's population still lives in extreme poverty.  In addition, 15% of all people are illiterate.
While Fuman is celebrated as a poster child for determination, he is also a sad statistic that shows how much more work needs to be done.  He and his classmates are up against unimaginable odds.
Many of these children are raising themselves, as parents leave to find work elsewhere. They are traveling numerous miles on foot through harsh terrain, and harsher weather; mostly without adequate clothing to brave the elements.
There is no heat in their school room.  Their school supplies are just enough to get by. Yet they are the lucky ones. A stunning 58 million children around the globe have NO access to education.
How Far Will You Go?
In response to Fuman's photo, 2.1 million yuan (Over $335,000 USD) poured into a charity for Fuman and his classmates.  Each child is reported to be receiving proper clothing and school supplies.
This is touching, but it isn't enough.  How far will we go?  It is going to take continued effort and awareness to solve the global education crisis.
This is our mission and our duty. At Global Learn Day we seek to unite our One Planet, One People through education to bring about a brighter future for everyone.
If you know of a charity that is helping spread the light of education please share it with Global Learn Day so that we can share it with the world. Together we build a brighter future, one student at a time!
How far would you go for an education? 
Have an inspirational story? Share it below!
Please follow and like us: