Has your classroom flipped?  Like desks on the ceiling you might ask.  No, flipped in terms of structure and instruction.  Flipped education is the latest trend but how is it really done?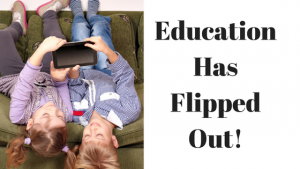 The History of the Flip
Though the general idea dates back to a thesis paper from University of Miami professors in 2000. Although the true flipped learning movement took really took root in 2007 when Aaron Sams and Jon Bergmann, Colorado High School teachers, began using technology to record their lectures for absent students.
Shortly after, they came up with the idea of prerecording all their lectures for students to view at home, so classroom time could be spend on in depth projects and collaborative learning.  Originally called pre-broadcasting, it eventually became known as a flipped classroom.
What It's Flipping Not!
As the trend has grown, so has the misconceptions of it's aim and practice.  Flipped education does not simply mean watching videos and answering multiple choice questions.  Neither does the idea of "school work at home, homework at school" capture the true essence of the technique.
The recorded classes are a means to the method's end but not the whole method.  The technology serves the purpose to make flipping possible but does not define the shift in educational practice.
Reservations and Requirements
One of the top concerns with starting a flipped classroom is the requirement for all students to have the Internet at home.  However, founders Sams and Bergmann say the Internet should never be a sticking point.
Videos can be loaded onto thumb drives, burned onto CDs, or uploaded to Ipods.  In addition, students should have the option of how they will learn the material.  Learning the material from a textbook or series of worksheets is just as valid as from a video.  The importance is how classroom time is spent.
Classroom Time in a Paradigm Shift
Flipped classrooms provide the space and time for teachers to interact on a more interpersonal level with students.  Affording students to indulge in project based learning, hands-on activities, lab experiments, and collaborative experiences.
Instead of the teacher being the center of the classroom time, learning and projects are.  The teacher becomes a facilitator as opposed to a lecturer.
Four Pillars of a FLIP
Authentic flipped education contains these four elements:
Flexible Environment
Learning Culture
Intentional Content
Professional Educator
With these four elements and a drive to provide accessible resources for student led study outside of classroom and student driven learning within the classroom walls, flipped education has the potential to revolutionize schools.
All of this innovation and initiative is aimed at one very dire epidemic–the high school drop our rate.  In the United States alone, 7,200 students drop out of high school each day.  That leads to 1.3 million young adults with incomplete educations every year.
By engaging students in meaningful learning and exciting class sessions, teachers like Sams and Bergmann hope to retain those who just are not being reached by the traditional model of lecture, homework, testing.  In addition, self directed learning leads to lifelong learning, the ultimate goal of any education.
What do you think?  Are you ready to flip?
Please follow and like us: