As the world heads into the "season of lights" with many faith and cultures celebrating special holidays and festivals, we are awash in the prospect of light amid the darkening days of winter.   Light has always signified hope. Yet, 1.3 billion people in the world do not have access to electricity.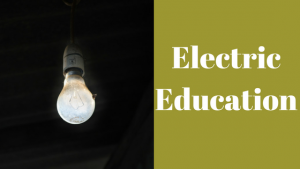 Spread Hope, Peace–and Light!
The greatest provider of hope is education. While education does not require a building, nor a collection of high tech gadgets, access to basic electricity increases access to education and provides greater tools for teachers.
By creating opportunities and pathways to electrify schools in the most desperate areas of the globe, we as One Planet, One People can affect the change we long to see in the world. Greater numbers of educated world citizens means less conflict, greater chances for peace, reduced poverty, increased health, and a more stable economic outlook.  In a word, hope!
What Can Electricity Do?
On the most basic level, electricity can ensure open school doors more days of the year. By providing artificial light, students can continue to study even when it is stormy and dark outside.  Ventilation also helps to keep school running despite the weather or extremes of a climate.
Electricity opens doors for teachers and makes their job easier.  Simple tasks such as photocopying test pages or homework sheets can be completed inexpensively right on site, saving teachers the time and expense of traveling to commercial copying services in areas with sparse electric access.
Step Into the Future
A basic education for all is a fundamental right and should be a top goal for the global community, but what about going beyond the basics?  The digital age is a ever changing landscape of innovation and opportunity. The longer we leave schools of the developing world in the dark, the greater the gap in prospects for first world vs developing nation students becomes.
The lack of access to information, collaboration, and technology that is fueling the global economy is a handicap that plagues over a million people in the world?
How will we build bridges and knock down barriers if we cannot effectively collaborate?  The greatest minds of our time may be living in areas unable to join in global community of innovation. What opportunities will be missed by students cut off from information and technological advancements?
Open the World
Providing electricity to education centers throughout the world not only opens a new world to underserved students and teachers, but opens the door for those already "wired" into the information web to reach out and make new friends. The interrelations are the stepping stones to greater diplomacy and understanding for future generations.  An open world breaks down the walls that separate us and helps to close the gaps wrought but poverty, prejudice, and ignorance.
Later this week, we will continue this "electrifying" discussion and explore incredible and innovative ways that some organizations are bridging the great divide and building hope one light bulb at a time!
Please stop back to learn more and how you can help!
What opportunities has electricity afforded you in your education?
Please follow and like us: