by guest blogger Kastle Huffaker
The real world is a tough world. Jobs aren't easy to find, and you keep struggling to be as qualified as your competitors. Where do you go from here? How do you keep your head up above the rest? Here are a few ways that I've discovered to help keep my mind active and strong.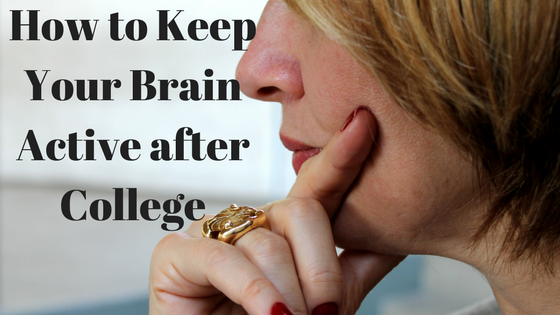 1. Pocket That Knowledge.
"Pocket" is this amazingly handy tool that lets you save articles, videos, and images you find as you are scrolling online. A lot of us come across something we want to read, but we don't have the time. This is where you can "Pocket" that interesting article, or video you know you want to watch, and it saves it all. Then, you can come back later and checkmark it off your list. I use Pocket almost every day. I'll pull up an article I want to read on my phone, and it will voice the article out loud to me as I'm doing other things.
Pocket comes in all shapes and sizes.
The best part – you can access your "Pocket" anywhere. I have the app on my phone. I use the Google Chrome extension on two different computers so I can save stuff continually throughout the day not just on my work desktop, but on my personal laptop. Building this archive of knowledge is like a mini extension of your brain, and it helps you stay aware and constantly learning. Or saving urls, and links to the places you know you want to learn more about.
2. Less TV, More Reading.
The average person spends over 5 hours A DAY watching television and/or Netflix according to a recent study from the NY Times. That is just crazy. Do you know how much you could accomplish in 5 hours? You could do yoga for an hour, cook up a nice homemade meal, spend a couple hours talking and reaching out to your friends, and even have time left over to read a book. The point is, TV wastes so much of your life and your time.
Don't be what everyone else is.
If the majority of the world is spending 35+ hours on the couch watching a show, do something different. Like, when was the last time you read a book? For me, the last time I had read an actual book was from my Nicholas Sparks collection THREE YEARS AGO. That blew my mind. I wanted to change that. So, I decided to join the Online Book Club. Not only did I get to be a part of a bigger community, I also got to make a little extra cash reading and reviewing as many books as I would like. I used an hour of the time I spent watching TV into reading a book. Since I've done that, my brain has been more focused and my vocabulary has expanded. This is just one example of what can put you one more step ahead of everyone else.
3. Keep Connecting.
The biggest mistake I made was not keeping connections after college. I found myself lost in a world where I didn't really know anyone who knew someone who could push me in the right direction of a great job. So connect! Connect with like minded people who work in the same industry or job as you. Collaborate and share ideas. If you are a software engineer, connect with more engineers. If you are a web designer, find other web designers. But if you hate where you work, search out what your dream job is. Then find the people who are already living that dream, and just talk with them. Figure out how they got to where they are now, and start learning what they have learned!
Leverage yourself.
The brightest and best resource that everyone keeps talking about is LinkedIn. This is your go-to online world to network and speak with people you can't meet in person. Join groups, comment on posts, start discussions. The more you put yourself out there, the better feedback you will get. Plus, LinkedIn is your online profile and resume. Once you start continually showing value in what you say, and who you talk to, people will start to notice. Recruiters are on LinkedIn for that very reason, to find someone like you. What do you have to lose?
Keep your brain alert and alive by learning and growing. Be a better version of who you want to be.
Kastle Huffaker is a 25 year old cancer survivor who loves blue and is all about positivity. She runs a small photography business and does graphics & website management for a local tractor company. She is also starting up her new business Virtual Kastle.
Please follow and like us: